Internet Repairs Service Call
What does a Service Call comprise of?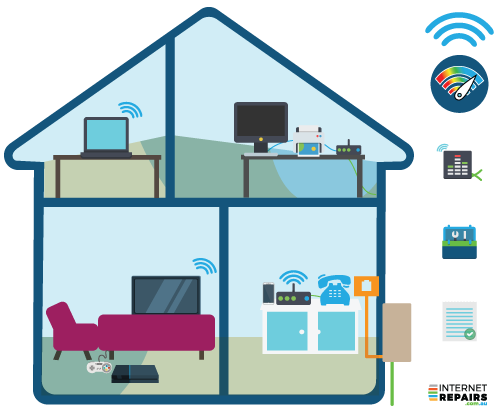 Test and Log current internet sync speed at the NBP
Diagnostic Test of Network from premises to node or ADSL device
Replacement of 1st Socket in premises to optimise VDSL or ADSL
Isolation of 1st Socket from any existing cabling to other Sockets
Re-test internet sync speed at NBP
Full Test of existing internal cabling
Test Report forwarded to your email address for perusal by your RSP.
How can a service call restore your internet speed and connectivity?
Diagnostic testing – directly into the Network from your premises.
At Internet Repairs, we use superior diagnostics and fault-fixing expertise to provide answers, solutions and peace of mind:
By ensuring Cabling and Sockets at your premises are in top condition, we can prevent deterioration to your connection (NBN VDSL or ADSL).
By testing into the Network from your premises, we can see at short range what your RSP's testing equipment cannot.
We investigate connectivity issues, which may relate to distance from premises to the NBN node*.
The IR Test Report can be invaluable for communicating with your RSP, if issues stem from a fault in your provider's network.
The IR Test Report can also be used to insist on Network Remediation for your service, if required.
*top notch cabling and sockets are crucial if your premises is more than 1 km from the NBN node (approx. 5 Kilometres for ADSL 1 / 2 and 2+ from the Telstra Exchange).
Experience you can Rely on
At Internet Repairs, our core service is diagnosing and repairing internet services, solving faults from node to modem.
Approximately 80% of internet service faults we diagnose and repair, originate from poor quality internal cabling, especially old Telstra set-ups from pre-NBN days. The remaining 20% of faults, are a mix of NBN Network issues and/or customer modem issues that we can identify and record test results for you to take to your Internet Service Provider.
Sometimes drop-outs can be caused by 3rd party influences, such as pool pumps and other nearby electrical appliances.
End of the Line…
NBN-technicians are not required to repair internal wiring faults beyond the Network Boundary Point (NBP). In most cases, the lead-in cable from the network terminates at the 1st socket.
At commercial dwellings (with multiple shops and/or units, the network terminates at the MDF in a Telecoms room. Once again, NBN authorised technicians are not obliged to investigate or provide service beyond this point.
A service call to your premises by one of IR's fully registered and insured internet technicians, could make a world of difference to your internet service.
We also provide Modem Installation and Data Cabling services.